Mountain Attractions
By Category

All Attractions
Architectural Masterpieces
Arts & Crafts
Cars, Planes & Trains
Cherokee Indians
Famous Persons
Great For Kids
Markets & Historic Stores
Museums
Music, Dance & Theatre
Parks & National Forests
Plants & Animals
Presenting Local History
Rivers, Lakes & Streams
Rocks, Gems & Minerals

Resources

Climate
Employment Resources
Green Resources
Real Estate & Relocation
Retreat Centers
Senior Resources
Summer Camps

Western
North Carolina

All About Western NC
Day Trips & Itineraries
Festivals & Events
Golf in the Mountains
Outdoor Recreation
WNC Attractions
WNC Cities & Towns
WNC Spas
WNC Wineries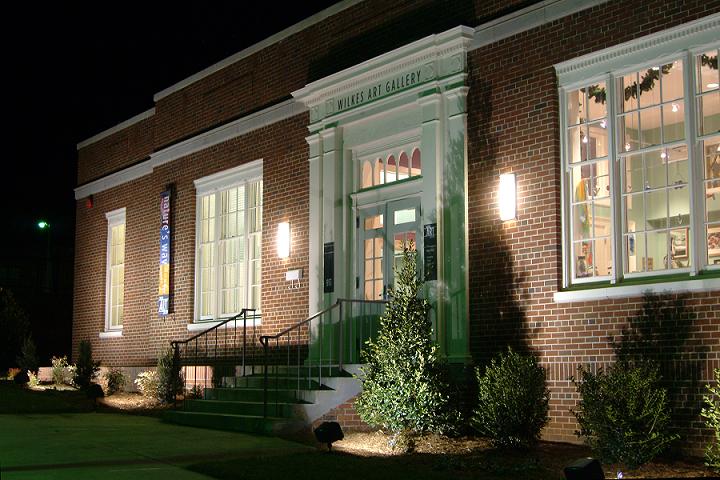 The Wilkes Art Gallery is a 10,000 square foot facility includes over 3,500 square feet of exhibition space, an education center with a complete ceramics studio, painting and drawing studios, two multi-purpose classrooms, and a Gallery Gift Shop. The art gallery that has changing monthly exhibitions of local, regional, student, and nationally known artists.

Website: Wilkes Art Gallery
Location: North Wilkesboro NC
Distance: 2 hours from Asheville
Address: 913 C Street, North Wilkesboro, NC 28659
Telephone: 336-667-2841
Hours: Tuesday: 10 a.m.-8 p.m.; Wednesday - Friday 10 a.m. -5 p.m.; Saturday 10 a.m. - 2 p.m.
Fees: None
Allow: 1-2 hours
Nearby: Old Wilkes Jail Museum, Ben Long Frescoes
Directions: From Asheville, take I-40 East to Exit 131 just beyond Hickory. Take NC 16 North to Wilkesboro. At the juncture of East Main Street, turn right and then left Wilkesboro Boulevard towards North Wilkesboro. At NC 421 turn right and then right at 10th Street. Take the 1st left onto C Street.