Mountain Attractions
By Category

All Attractions
Architectural Masterpieces
Arts & Crafts
Cars, Planes & Trains
Cherokee Indians
Famous Persons
Great For Kids
Markets & Historic Stores
Museums
Music, Dance & Theatre
Parks & National Forests
Plants & Animals
Presenting Local History
Rivers, Lakes & Streams
Rocks, Gems & Minerals

Resources

Climate
Employment Resources
Green Resources
Real Estate & Relocation
Retreat Centers
Senior Resources
Summer Camps

Western
North Carolina

All About Western NC
Day Trips & Itineraries
Festivals & Events
Golf in the Mountains
Outdoor Recreation
WNC Attractions
WNC Cities & Towns
WNC Spas
WNC Wineries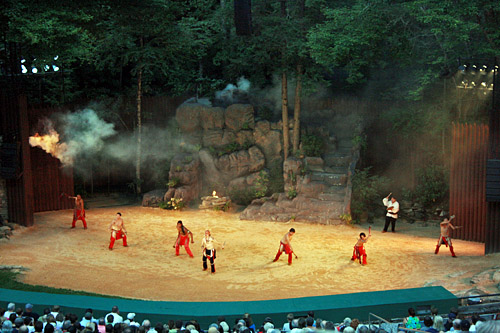 One of America's most popular outdoor dramas, Unto These Hills, is presented at the Cherokee Indian Reservation, and is the tragic and triumphant story of the Cherokee Indians. Set against the backdrop of the Great Smoky Mountains, the drama is performed under the stars on three stages in the beautiful Mountainside Theatre. Since opening in 1950, "Unto These Hills" has been seen by over five million people.

Website: Unto These Hills
Location: Cherokee NC
Distance: 2 hours from Asheville
Address: Mountainside Theatre, Drama Road, Cherokee NC 28719
Telephone: Tickets: 866-554-4557, 800-438-1601
Hours: Shows nightly except Sunday (June -August).
Fees: Adult and child rates
Allow: Drama takes about 2 hours. Pre-show entertainment begins 40 minutes before show times.
Nearby: Harrah's Cherokee Casino & Hotel, Museum of the Cherokee Indian, Qualla Arts & Crafts Mutual, Unto These Hills, Oconaluftee Indian Village
Directions: From Asheville, take I-40 West to Exit 27. Take Hwy. 19/23, Hwy. 74 West to Cherokee. In Cherokee turn right at Hospital Road which turns into Drama Road.