Mountain Attractions
By Category

All Attractions
Architectural Masterpieces
Arts & Crafts
Cars, Planes & Trains
Cherokee Indians
Famous Persons
Great For Kids
Markets & Historic Stores
Museums
Music, Dance & Theatre
Parks & National Forests
Plants & Animals
Presenting Local History
Rivers, Lakes & Streams
Rocks, Gems & Minerals

Resources

Climate
Employment Resources
Green Resources
Real Estate & Relocation
Retreat Centers
Senior Resources
Summer Camps

Western
North Carolina

All About Western NC
Day Trips & Itineraries
Festivals & Events
Golf in the Mountains
Outdoor Recreation
WNC Attractions
WNC Cities & Towns
WNC Spas
WNC Wineries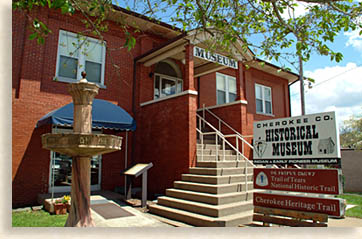 Housed in the old Carnegie Library in downtown Murphy, the Cherokee County History and Arts Museum has a collection of more than two thousand artifacts from the time of the infamous Trail of Tears. Many of the artifacts were collected in Cherokee County, excavated from Indian mounds, or purchased from area citizens over the past seventy years. For the most part, the museum reflects the lifestyle of the Cherokee Indians, although some exhibits also focus on the early white settlers as well as the 16th century Spanish explorers who passed through the area in search of gold and other precious metals. The museum also has an exhibit of over 700 antique dolls, the oldest dating back around 1865.
The museum serves as an interpretive center for the Trail of Tears National Historic Trail. Murphy was once the site of Fort Butler, one of the main holding areas for Cherokees who were being removed from North Carolina in the 1830's. Other sites in and around Murphy play a prominent role in Cherokee history, mythology, and culture.
The museum houses a replica of the log cabin dwellings used by the Cherokee residents of the area at the time of their removal. This type of dwelling was also typical of that used by pioneer settlers, many of whom moved into the vacated Cherokee cabins.

Website: Cherokee County History and Arts Museum
Location: Murphy, NC
Distance: 2 hours from Asheville
Address: 87 Peachtree St., Murphy, NC 28906
Telephone: 828-837-6792
Hours: Monday-Friday 9 a.m.-5 p.m.; Closed national holidays.
Fees: Adult and child rates
Allow: 1-2 hours
Nearby: Cherokee Indian Reservation
Directions: From Asheville, take I-40 West. Take Exit 27 to 74 West. Follow 74 West to NC 19. Follow 19 into Murphy. The Museum is right behind the courthouse in the center of town.